IMPORTANT: This Marking Consumable is only for the Hypertherm45®XP.
Why is this Consumable only for the Hypertherm45®XP?
The Hypertherm45®XP with the Duramax® Lock Mechanized Torch is currently the only Plasma System that is optimized with a special power supply, able to control the Arc Entity and that works well at high & low amperage output, enabling marking to take place. Because of the Success Rate with the Hypertherm45®XP has been good, Hypertherm® agrees it would be a smart decision to adopt the Marking technology for the Hypertherm65® & Hypertherm85®, but that would require a complete redesign and a stable arc at a low amperage output for those specific models.
HYPERTHERM® MARKING SAMPLE VIDEOS
Fabricators and manufacturers routinely mark metal to indicate bend or score lines and add precise technical information to parts such as part numbers and barcodes. Typically, this work is performed manually using a hammer and punch, powder or ink, soapstone, handheld engraving machines, or as an integral process step on a mechanized plasma or oxyfuel cutting table.
Fabricators who choose to mark with plasma – whether using a handheld torch or mechanized cutting table, have an advantage, as marking with plasma is more permanent than soapstone or ink. Marking done during the CNC cutting process is more accurate and legible, with depth precisely controlled to determine whether marks remain visible or not after coatings are applied.
Plasma marking can also be used on wet or oily plate, and eliminates the clogging problems and humidity concerns associated with powder marking. The versatility of the portable Powermax45® XP plasma system makes it an ideal tool for both handheld and mechanized marking applications, and for making temporary or permanent marks on metal surfaces such as mild steel, stainless steel, or aluminum.
When fully mechanized systems, such as the HPR® or XPR™, are equipped with both a cutting head and marking hardware, fabricators can consolidate cutting and marking into a single-pass operation.
Typical marking applications include:
Scoring to indicate cut or weld lines
Product or part identification
Creating position references for robotic systems
Creating dimples to start drilling holes
HYPERTHERM® MARKING SPECS
| Hypertherm® LIGHT MARKING | AIR |
| --- | --- |
| | |
| | 0.001" inch ( Less than 0.02 mm) |
| | 100" inch / minute ( 2.5 meters / minute ) |
| Hypertherm® HEAVY MARKING | AIR |
| --- | --- |
| | |
| | |
| | 100" inch / minute ( 2.5 meters / minute ) |
(Calculations based on Powermax45 XP, used at 10 to 25 amps)
HYPERTHERM® MARKING & DIMPLING - AIR - SHIELDED
CURRENT (AMPS)

TOUCH TO WORK DISTANCE

INITIAL MARKING HEIGHT

DELAY TIME

MARKING SPEED

ARC VOLTAGE

WIDTH

DEPTH
CURRENT (AMPS)

TOUCH TO WORK DISTANCE

INITIAL MARKING HEIGHT

DELAY TIME

MARKING SPEED

ARC VOLTAGE

WIDTH

DEPTH
CURRENT (AMPS)

TOUCH TO WORK DISTANCE

INITIAL MARKING HEIGHT

DELAY TIME

MARKING SPEED

ARC VOLTAGE

WIDTH

DEPTH
GAS FLOW RATE – STANDARD LITERS PER MINUTE / STANDARD CUBIC FEET PER HOUR
137 / 290 Hot ( cutflow )
141 / 300 Cold ( postflow )
The Powermax45® XP plasma system is an ideal tool for many widely used metal marking applications, including:
Part identification numbers
Score lines for weld or bend placement
Dimples for drilling applications
Specifically designed to provide a stable, low current plasma arc using the precision gouging nozzle and marking shield, the system can make high quality marks using a handheld or machine torch, with either air or argon as a gas source.
LIGHT SCORE & HEAVY SCORE MARK PROFILES
There are primarily two different types of mark profiles: light score and heavy score. Usually, the choice depends on whether the mark will be seen on the final product. If the mark needs to be visible after painting, for example, a heavy score is preferable. For temporary part identifiers that won't be needed after final assembly, a light score is probably a better choice, as it can be easily removed with a grinder or covered with a layer of paint.
A number of parameters of the Powermax45 XP system can be easily adjusted to achieve different mark depths, widths, and appearances on various types of metal; for example:
A low output current of 10 amps will produce a light score.
A higher output current of 15 to 25 amps will provide a heavier score.
Slower torch motion speeds combined with a low torch-to-work distance will increase the width and depth of the mark.
Faster torch motion speeds with a higher torch-to-work distance will decrease the width and depth of the mark.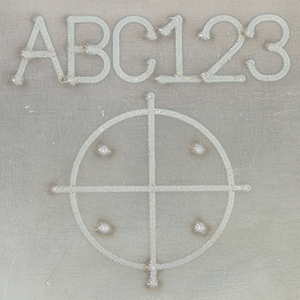 Metal marking using LIGHT air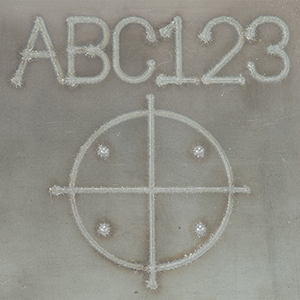 Metal marking using HEAVY air
Protect your investment! Choose genuine torches and consumables for your Hypertherm® plasma cutting system and keep your system running at peak performance. Here's why:
Patented technologies – Every day, Hypertherm® engineers are working on new ways to improve the plasma cutting process. Thousands of hours of engineering time focused solely on plasma consumable technology guarantees the best possible cutting performance from your system.
Synergistic design – Hypertherm® systems and consumables are designed to work together. System features and consumable designs are matched to optimize performance and reliability – to give you the best possible cut, over the longest service life.
Critical to function engineering – Hypertherm® engineers identify the critical features of each consumable part that will have an impact on cutting performance, and design accordingly. The specifications for these features are held to tolerance ranges that exceed even Six-Sigma quality standards.
Highest quality – Investments in the most current quality systems, state-of-the-art manufacturing facilities and intensive machine operator training ensure that every consumable part that you receive from us will perform to your highest expectations.
The main function of the shield is to protect and cool the other consumables, especially the nozzle from molten splatter. In some cases, the shield also contributes to the swirling action of the plasma gas.
COUNTERFEITS
Five reasons you should always buy genuine products through authorized distributors and avoid counterfeit products:
Quality
Counterfeit suppliers have one thought in mind: a quick profit. They use the lowest cost materials and the cheapest, fastest production techniques; no stringent manufacturing processes, and no quality control. Their products are inferior, inconsistent, and unreliable.
Performance
Plasma torches are precision devices requiring precision consumables. Any deviation from specified tolerances may impact overall performance. Result: poor or inconsistent cuts, reduced cutting speed, and significantly shorter consumable life. Or even a ruined or damaged torch.
Safety
The low quality metals used in counterfeit manufacturing may not be able to withstand the thermal demands of plasma cutting, putting equipment and, more importantly, may put operators at risk.
Aftersales support
If unknown parts have been used in a damaged torch or plasma system, it will make troubleshooting difficult, if not impossible. The use of unauthorized parts may also affect your warranty coverage.
Overall operating costs
Those "low cost" counterfeit consumables can be a lot more expensive than they look. For starters, they do not last as long as genuine parts — often only a fraction of the cutting life. Poor quality cuts may require costly rework, and valuable equipment could be irreparably damaged. There's also downtime to consider, not to mention the risk to your business or your brand.
HOW LONG WILL CONSUMABLES LAST?
Answered by Jim Colt, Strategic Account Manager at Hypertherm®
It's hard to give an exact (or even in-exact) number as so many factors impact consumable life—operator experience, type and age of the torch, material type and thickness, air quality, etc. However, if the operator understands good piercing and edge starting techniques to keep molten metal from blowing back onto the torch nozzle (or tip if a non-Hypertherm system) then consumable life can be extremely good.
The biggest problem with most plasma torches occurs when hand cutting with an exposed (unshielded) nozzle. Ideally, you need to hold a standoff with an unshielded setup at all amperages greater than 30 amps or so. If the nozzle touches the plate during a cut it creates a current path between the negative electrode, nozzle, and positive plate. This causes a double arc between the electrode and nozzle, and the nozzle and plate, which damages the nozzle orifice. When the orifice gets a little damaged, poor angularity is the first thing you'll notice, followed by more double arcs and more damage. Eventually you'll notice slower cut speeds and heavy dross, at which point you'll likely change your nozzle.
Some people use a standoff device to hold the torch up off the metal. Unfortunately, molten metal can still blowback during piercing, once again creating a current path from the nozzle to the plate and leading to double arcing. If you have used a hand held torch with an exposed nozzle at more than 30 amps while drag cutting, you've likely felt the torch "sticking" to the plate. This is a result of double arcing.
One way around this problem is through the use of shielded torch technology, invented and patented by Hypertherm® in the 80's. The shield works to electrically isolate the nozzle from the plate to totally eliminate double arcing. Hypertherm® shielded torches drag cut at up to 200 amps with no friction or double arcing for a dramatic improvement in consumable life and cut quality.
In the 30 or so years since Hypertherm® introduced shielded torch technology, engineers have made enormous strides in the life of these consumables. For example, our Duramax® torches which come standard with nearly all new Powermax® systems and as a retrofit torch for most older Hypertherm® systems use the shield for more than just nozzle isolation. The shield and nozzle for these torches use patented technology called Conical Flow to inject greater air flow around the perimeter of the arc. This increases the energy density of the arc and provides better cooling to the nozzle. The result is no sticking, no double arcing, faster cut speeds, thicker piercing capability, and dramatically longer nozzle life.
So, assuming you are using a Duramax® torch with the latest consumable technology, then I would expect you to cut hundreds of feet of metal. In addition, you should be able to make between 600 and 1,200 pierces, after which time you would need to replace your electrode. Your remaining consumables would likely continue to work just fine. Put another way, you should be able to get between 2 and 4 full days of actual arc-on time before needing to replace any of your consumables.
TROUBLESHOOTING
SYMPTOMS 1
SYMPTOMS 2
TROUBLESHOOTING
One of the most common and frustrating problems in plasma-arc cutting (PAC) is short service life of parts. This problem hurts the fabricator both in increased consumable expense and in machine downtime for changing parts and troubleshooting. Most companies keep some record of parts life based on pierce counts, arc-on time, or the number of plates processed. The operator is usually the first to know when parts aren't lasting as expected. Here are some technical tips to help the operator or maintenance troubleshoot a service life problem.
WARNING! Read all safety information in your operations manual before operating or repairing PAC equipment. PAC systems use high voltage and direct current (DC) electricity. Electric shock can injure or kill.
SYMPTOMS 1
SYMPTOMS 2